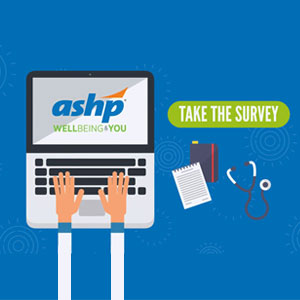 Share your opinions and experiences on well-being and resilience at work or school by responding to ASHP's 10-minute Well-Being and Resilience Survey.
ASHP is committed to fostering and sustaining the well-being, resilience, and professional engagement of pharmacists, technicians, residents, and students. The survey will assess the awareness and perception of burnout among the pharmacy workforce in hospitals and health systems, as well as identify well-being and interdisciplinary resilience solutions for the entire workforce.
Your responses are confidential and will not be traced back to you. We will share aggregated survey results with our members later this year.
To participate in the survey, use the personalized link you received in an email sent on October 17. If you have not received the notification, please check your spam or junk folders. Please email questions to ASHP at membership@ashp.org.
Please complete the survey as soon as possible.
For more information about ASHP's commitment to a thriving clinician workforce, and to find resources to help you build your resilience, visit ASHP Wellbeing & You.